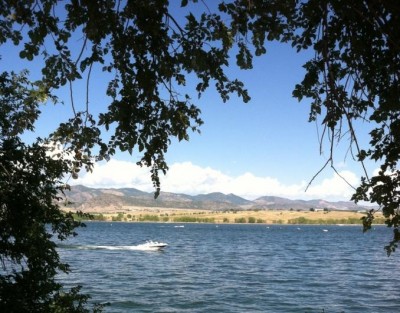 Chatfield State Park offers nature programs to visitors of all ages.  Programs vary from hikes, history talks, and nature education to the Junior Ranger programs and Beach Mania. These programs help connect children and adults to the great outdoors and Chatfield State Park. All programs are free, but every vehicle entering the park must have either an annual ($70) or daily ($8) Colorado State Parks pass.
To schedule group programs or for more information call 303-979-9115 or email [email protected]. The Aug. 3-4 programs:
Friday, Aug. 3
Nature Journal Hike – Lakeview Parking Lot – 10 a.m.
Create a nature journal and capture experiences in the wonderful outdoor setting around Chatfield while hiking along the lake.
Bears and Bear Safety – Amphitheater – 7 p.m.
Join GOCO Interpretive Ranger Tiffany Gagne and learn all about bears. Also learn about precautions to help keep safe from bears and ways to keep bears wild.
Ghost Stories – Amphitheater – 8 p.m.
Join "Prospector Pete" and listen to tales, stories, and jokes around the campfire for a night full of laughs and a few frights.
Saturday, Aug. 4
Junior Ranger Program – Amphitheater – 10 a.m.
Become a Junior Ranger of Chatfield State Park by completing activities in our Junior Ranger guidebook.  These activities encourage exploration, examination and excitement for the park.  Complete the required activities and receive a Junior Ranger Badge. Ages 6 to 12.
Wild Animals of Chatfield – Amphitheater – 10 a.m.
Join volunteer naturalist Karen Pylant and see real animal pelts and learn about the habits and habitats of species that share Chatfield State Park with us. This program is for all ages.
Slocum Cabin Open House – Slocum Cabin – 11 a.m.
Explore the history of the park and the wonderful Slocum Cabin, one of the oldest standing houses in Colorado, with volunteer naturalist Bruce Pylant. This program is for all ages and the cabin stays open till noon.
Beach Mania – Swim Beach – 1 – 3 p.m.
Kids need a break from the water? Come to the ranger's station and participate in arts and crafts and learn about the nature on the park. Drop in any time between 1 p.m. and 3 p.m.
Possum – Amphitheater – 7 p.m.
Come listen to stories and adventures of Possum, a mountain man, and enjoy learning about how things were back in the days of trappers and homesteaders.
Image courtesy of Colorado Parks and Wildlife