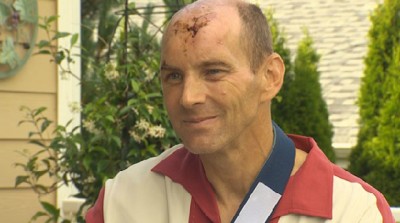 July 16, 2012 may very well have been the day Kevin Weed died. Not many people have survived a 1,200-foot fall down a steep, rocky mountain. Yet, he lived to tell his story. After his release from the hospital, KING 5 News in Portland, Oregon contacted the lucky survivor to ask him what the near-death experience was like.
Weed describes the fall – triggered by loose footing – as an "unconscious freefall tumble" for about the last 400 feet of the drop, while the first 800 were all about trying to stop.
Weed was climbing with a team of experienced mountaineers on a trip to Luna Peak in Washington's North Cascades. Weed's climbing partners quickly made it down to him after his tumble and put their wilderness survival skills to the test. Chris Robertson was the first one to reach Weed. He recalls the severe wounds on Weed's body and the sheer fright of not knowing whether the man was alive or dead at first. Robertson and the rest of the team kept Weed warm while waiting five hours before he was airlifted to the nearest hospital.
Hear Weed's own words on the matter in the video by KING 5 below.
Image screenshot of video by KING 5 on kgw.com