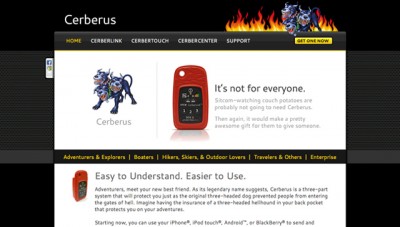 The Cerberus system from BriarTek offers a three-piece search-and-rescue system designed specifically for wilderness and off-the-grid adventurists.
The system allows users to send, receive and even cancel distress messages from anywhere via your iPhone, iPod touch, Android or BlackBerry. The three parts of the system offer slightly different features and options of contacting the developed world for help. The parts are CerberLink, CerberTouch, and CerberCenter.
CerberLink is meant for traveling to "hell and back," but as it states on Cerberus's website, "some do like it hot afterall" and with CerberLink you can send your friends a message letting them know the trek is grueling, but you're alright. This part in the system comes in the form of a small satellite device similar to the SPOT Messenger and other satellite rescue beacons.
Send pre-drafted messages to your friends, toss digital bread crumbs along your route at intervals as short as 5 minutes and receive severe weather alerts in your area to keep yourself abreast of impending storms.
CerberLink will be the device to save you when your cell-phone coverage fails, until then, CerberTouch is the device you can get by on. It's the most basic component of the three-part system. As a free application downloaded from the internet, CerberTouch works with iPhone, iPod touch, Android and Blackberry devices.
Connect to CerberLink by Bluetooth to send and receive messages, incoming alerts and display dropped breadcrumbs. Display all your messaging on your personal map via Google Maps. In case of an emergency, or even non-emergency situation, distress buttons send real-time communication to the Cerber concierge service which may be routed to a commercial search-and-rescue center if added to your list of emergency contacts in CerberCenter.
The CerberCenter is a web server that routes all satellite and Internet messaging to your CerberLink or smartphone. CerberCenter also allows you to review your messages on your Google Maps page or sync your map to a social media site to show past trips or let friends track your current trip's progress. Here, set up who should be contacted in case of an emergency should you need to activate the distress button.
The Cerberus system functions because of the Iridium network of low-orbiting satellites which provide pole to pole coverage across the globe. It should work everywhere there is undisturbed access to the sky, meaning caves and thick-vegetation jungles may pose connectivity problems.
The system starts at $499 for the hardware. To use it, you have to sign up for a year of service at $32.95 per month with a limited count of 60 messages per month. Although after the first year, the system because more tailored. Users can pay only for the months they wish to use the device. Another beneficial feature is the option to rent the device starting at $65 for two- to four-week rentals.
Find out more at Cerberus.briartek.com.
Image screenshot of Cerberus homepage, www.cerberus.briartek.com