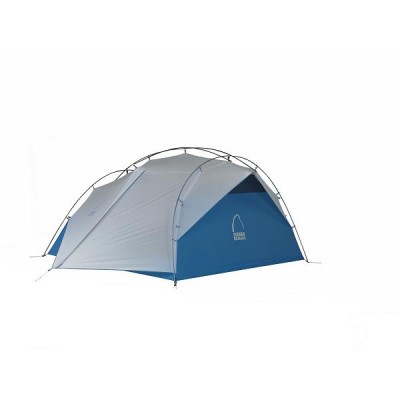 Sierra Designs, leading innovator of outdoor gear and apparel since 1965, is introducing ExoFusion tent technology for 2013, helping ultralight backpackers shave weight and speed tent set-up while maintaining comfort, performance, and convenience.
Designed with external pole configurations, an integrated fly, and superior ventilation capabilities, ExoFusion tents are fast to pitch, weigh less, set up dry even in a downpour, and keep backpackers comfortable.  The ExoFusion series includes the Mojo, Mojo UFO, and Flash tents, on display at the Outdoor Retailer Trade Show in Salt Lake City this August (booth #28017).
"We believe that 'ultralight' and 'comfortable' do not need to be mutually exclusive concepts," said Michael Glavin, Vice President for Sierra Designs.  "It is our goal to create outdoor gear that combines the two and ExoFusion™ is our next step in developing backcountry shelters that weight less, set up faster, and offer more internal space.  All you have to do is take one of these shelters on a backcountry overnight to see what I mean."
For those who are truly obsessed with ultralight gear, space-age materials, and technical designs, we offer the Mojo UFO.  Made with carbon fiber poles and the insanely light, virtually indestructible Cuben Fiber, the Mojo UFO weighs a scant 1-lb, 11-oz and will stand up to just about anything you can dish out.  This shelter will be available in limited quantities and retail for $1799.
Ultralight meets ultra-roomy in our new for 2013 Flash tents.  Featuring our new ExoFusion technology, our Flash Tents offer all the ease and speed of external pitch combined with steep walls and an integrated fly design to give you a spacious, well-ventilated refuge in a matter of seconds.  Two doors and two vestibules make accessing the outdoors and stashing gear as easy as ever.  Available as the Flash 4 ($449; 5-lbs, 12-oz), Flash 3 ($389; 4-lbs, 13-oz), and Flash 2 ($339; 3-lbs, 15-oz).
Our Mojo 2 and Mojo 3 tents employ ExoFusion technology to blend the best aspects of single and double wall tents.  Enjoy the ease of external pitch, the light weight of an integrated fly, and the breezy air circulation of advanced ventilation design.  The Mojo 2 ($399; 2-lbs, 11-oz) and Mojo 3 ($449; 3-lbs, 8-oz) are currently available at retail.
Image courtesy of American Rec