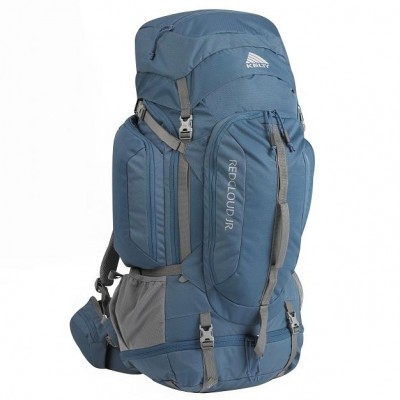 Kelty, backpack leader and innovator since 1952, is re-launching the highly popular Trail Series Packs with updated features, broader sizing, and new styles for men, women, and teens.  The newest line will debut at the Outdoor Retailer Trade Show in Salt Lake City this August (booth #26026) with retail availability scheduled for Spring 2013.
A Kelty favorite thanks to comfortable, functional styles that offer a ton of value, the go anywhere, do anything Trail Series will now feature several new packs for travel, day hikes, and juniors, with updated designs and features across the rest of the line.  Kelty's newest 2013 packs include the teen-sized Red Cloud Junior and Lakota Junior along with the day hike-ready Kite and travel-friendly Flyway, offering versatility and comfort for younger backpackers, day hikers, and travelers.
"All of our new Trail Series Packs are launching in response to gaps we've seen in the marketplace," said Sue Timbo, Marketing Director of Kelty. "For example, we want to encourage the next generation to take an active interest in the outdoors so our Junior packs are comfortable, functional, and fit younger backpackers. We also pride ourselves on offering gear for every occasion, and the low volume Kite and travel-friendly Flyway were specially designed for day hikes and weekends away."
Sized just right to fit the teen backpacker in your family, the Red Cloud Junior is the ideal transition pack, offering all the features of an adult pack in a size made for growing kids.  With Kelty's CloudLock II adjustable suspension, this gear hauler's torso length expands as your junior backpacker gets taller, offering years of reliable service and a custom-tailored fit.  ($179.95)
For teenagers who have outgrown kid-size packs but aren't quite ready for an adult size, Kelty offers the Lakota Junior.  Sized and shaped to better fit younger hikers, the Lakota Junior features Kelty's CloudLock II adjustable suspension, allowing this pack to grow with your teen.  This pack has all the features of an adult pack, giving young backpackers everything they need for fun on the trail. ($179.95)
A standard-style backpack with travel-friendly features like a separate compartment for shoes or dirty clothes and a pack cover that protects shoulder straps when checked, the Flyway carries easily and fits enough gear for a long weekend away.  A padded sleeve protects your laptop while making it easy to remove at security.  The Flyway is also an excellent pack for day hikes and around town. ($129.95)
Simplicity is the name of the game with the Kelty Kite.  Streamlined for convenience, this pack is made for short hikes and adventures around town, offering you all the features you need… and none you don't.  A roomy main compartment easily handles extra layers, snacks, or other essentials while a front pocket with organization keeps smaller items handy and easy to find. ($54.95)
KELTY is based in Boulder, Colorado, and uses the natural backdrop of the Rocky Mountains to test, create and continually innovate within their diverse outdoor product families of Backcountry, Trail, Basecamp, Lighting, and KIDS. Kelty combines the best in new technology with a healthy dose of common sense to create exceptionally made, affordably priced outdoor products. For more information on Kelty, please go to www.kelty.com, or call 800.423.2320.
Image courtesy of American Rec