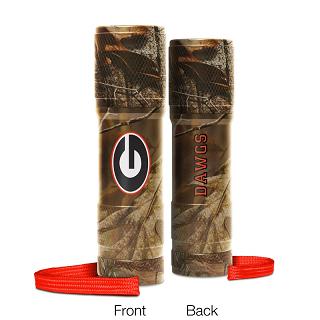 Support your team while showing off your favorite Realtree camo with a Campus Lights Realtree camo LED flashlight. Both the Campus Lights Performance and Pocket LED flashlights sport the colors and logos of your favorite team on top of a Realtree camo background.
The Campus Lights Performance LED flashlight is built full of great features including a magnetic base for hand- free lighting. This camo LED flashlight has a water-resistant body made of anodized aircraft-grade aluminum, a 4x adjustable beam bezel that adjusts light beam from spot to flood, a glow-in-the-dark button, and an aggressive, self-defense face.
With its high-powered, 1 Watt, color-changing LED, the Performance LED is ready for any occasion. Its green color mode is great for blood spotting. Red is also useful at night and in smoky environments, and at 110 lumens, white turns the light on in the darkness.
Campus Lights Pocket LED flashlight may be small in size, but it's big on illumination. The high-powered one-watt Pocket LED flashlight shines up to 500ft, so you will never be left in the dark. Don't get Campus Lights Pocket LED confused with other similar styles. At an extremely bright 90 lumens, others don't even come close.
Image courtesy of Stephanie Mallory