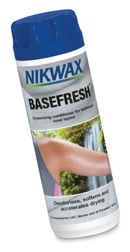 Nikwax, the global leader in safe, high performance aftercare for outdoor gear, announces BaseFresh. This revolutionary new product from Nikwax is a deodorizing wash-in conditioner for use in combination with standard household detergents. New BaseFresh is designed to deodorize and accelerate the drying time of all next-to-skin base layers used by outdoor enthusiasts, runners, and other active people.
After use and over time, technical base layers can lose their wicking performance and can stink. Regular detergents can be very aggressive cleaners, which is sometimes needed, but they can leave base layers with poor wicking performance, contributing to odor build-up. Added to the laundry load via the fabric softener tray, BaseFresh conditioner deodorizes, speeds up drying and keeps technical garments fresh and cool. BaseFresh-treated fabrics are also more resistant to stains and day-to-day soiling, and are easier to get clean once stained.
"Nikwax is committed to constantly innovating with new products,' says Nick Brown, founder and CEO of Nikwax. 'Our drive to improve the experience of outdoor enthusiasts and those living an active lifestyle propels us to provide the highest performing aftercare solutions on the market. Our products enhance the performance and extend the life of technical outdoor gear and apparel, and BaseFresh offers another solution for our customers. BaseFresh keeps base layers smelling better, and users more comfortable allowing them to better enjoy their time outdoors."
Independent trials and lab tests prove that new BaseFresh:
Significantly reduces the build up of body odor in next-to-skin fabric
Speeds up fabric drying time by up to 90 percent.
Increases fabric wicking properties by more than 30 times!
NEW Nikwax BaseFresh in 300ml retails for $7.50, 1 liter for $17.99, and will ship to retailers January 2013.
Image courtesy of Verde PR