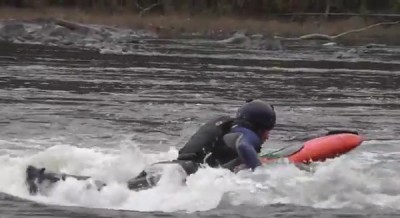 It's not a surf board, it's not a kayak, but a mix of the two called a "Bellyak." The new water vessel is the brainchild of Adam Masters, a 32-year-old entrepreneur from Asheville, North Carolina who crafted the design to supply new adventures for himself after an exciting lifetime of outdoors pursuits.
Using the Bellyak is like swimming and paddling with a kayak under your belly. "Nobody has done anything like this. What I love about this, when you kayak a lot, you get to a point when (you) get to Class 5 whitewater," Masters said to the Charlotte Observer. "You have to maintain a certain edge, and the risk-to-reward ratio gets a little different. To increase the excitement, you have to increase your risk."
His invention was born out of a need to pass through a Class II curl down a backyard creek after a flood in Sunset, South Carolina. The space he was trying to pass was too narrow for a paddle so he covered his kayak's cockpit with a rain skirt and duct tape, then laid down on his stomach, hugged the boat tight and launched forward with his hands.
"You can take a Bellyak, a super-intimate way of riding the river, and (calmer waters) like the French Broad River, the Tuckasegee, all of sudden they become more fun. The experience is so dynamic. You can ride on your knees, on your butt, you can lay down and take a nap."
What's most exciting for Masters' business are figures from the 2012 Outdoor Foundation Recreation Topline Report stating that participation in recreational kayaking is up nearly 32 percent in the past three years, while whitewater kayaking is up more than 24 percent.
Masters said this activity requires moderate physical fitness and basic common sense skills (like how to judge safe passages down a river) to be able to maneuver, although webbed gloves are an advantage.
View a video demonstration of the Bellyak below.
httpv://youtu.be/SbbTyeRkueY
Image screen of video by EvolutionKayaks on youtube