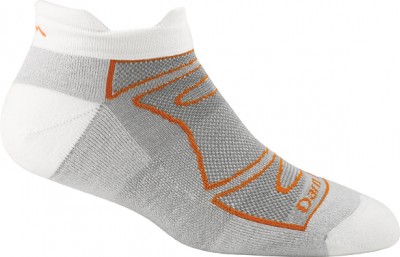 Darn Tough Vermont, American manufacturer of the only premium, all-weather performance socks with an unconditional lifetime guarantee, adds the all-new Light Cushion Run/Bike sock to its vast lineup of athletic and lifestyle hosiery. At half the wool yarn weight of the company's Cushion socks, the new Light Cushion Run/Bike socks are a perfect fit for the discerning runner or biker who desires resilient cushioning in an incredibly low-volume sock. See it at the 2012 Outdoor Retailer Summer Show in booth #BR419.
"Our Light Cushion sock achieves an exclusive blend of durable cushioning and lightness that continues to elude other sock manufacturers," said Ric Cabot, founder and president of Darn Tough Vermont. "By using a lighter-weight yarn and high-density knitting, we've created a sock that fits comfortably into form-fitting run and bike shoes, while still providing the under-foot cushioning desired by many athletes who spend miles on the road and trail."
Knit with superfine, 17.5-micron Merino wool yarns, the new Light Cushion socks from Darn Tough Vermont are lighter and just as durable as the brand's other styles. Hot spots and blisters are minimized, if not altogether banished, thanks to True-Seamless knitting technology, which finishes the sock with a virtually undetectable toe seam. A longer ring-toe pocket and deeper heel cup create a foot-hugging fit, while four strategically placed densities of material throughout the sock offer areas for enhanced moisture wicking, breathability and flex.
"From the outside, our new Light Cushion socks are downright impressive looking," said Cabot. "But the good stuff is inside. You can't simply see everything that has gone into developing this new sock; you need to feel it to appreciate the quality, preferably by putting a pair on and throwing everything you can at them."
The Light Cushion Run/Bike socks will begin shipping to retail for the Spring 2013 season and come in two variations: Quarter Length (MSRP $17) and No-Show (MSRP $14) with a new articulated cuff.
For more information, please visit www.darntough.com.
Image courtesy of People Making Good