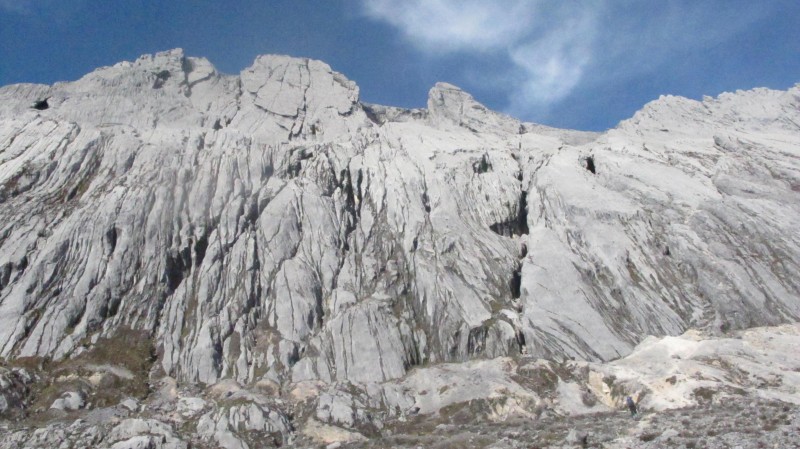 An RMI Expeditions climbing team reached the summit of Carstensz Pyramid on July 5th. Carstensz Pyramid (16,023′) is the highest mountain of Oceania and one of the world's fabled Seven Summits, the highest points on each of the seven continents.
The team, led by RMI Guides Mark Tucker and Alex Van Steen, arrived in Timika, Indonesia on the island of New Guinea on June 26th. After flying to the small village of Sugapa, they spent six days trekking through the dense rainforest of New Guinea, crossing rivers and often needing a machete to navigate the thick groundcover of the rainforest, in order to reach their Base Camp at the foot of Carstensz Pyramid.
After reaching Base Camp on July 3rd, the team made a pre-dawn start for the summit on July 5th. They ascended the 2,100′ vertical foot technical rock climb up Carstensz limestone cliff faces to the summit, reaching the top at 1:30 pm local time. "The climbing was rather spectacular, with a dozen or so pitches of climbing up sharp limestone rock and a Tyrolean traverse along the summit ridge," said Van Steen. "The entire experience was a thoroughly amazing adventure." The climbers descended to Base Camp that same day. Read a complete account of the expedition on the RMI Blog.
"Carstensz is notorious as a challenging adventure, from trekking through the thick jungle of the approach, to the poor weather normally encountered on the mountain," said RMI Owner Peter Whittaker. "We are very proud of the accomplishments of the team and the leadership of our guides."
Van Steen and several of the climbers plan to return to New Guinea in the coming year to collaborate with the local Moni tribe on healthy community development. RMI Expeditions will lead an expedition to Carstensz Pyramid again in July 2013.
Image courtesy RMI Expeditions