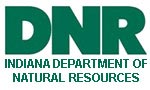 The Department of Natural Resources is looking to recruit 24 volunteers to work on trails this fall at four state parks for the Indiana Heritage Corps (IHC), an AmeriCorps program administered through the Division of State Parks & Reservoirs.
IHC volunteers receive on-site housing, a living allowance of $340 per month, an education stipend ($1,468 before taxes) and hands-on experience, as well as a chance to earn college internship credit and live at a state park.
The state parks that will have IHC are Pokagon (in Angola, six positions), Fort Harrison (in Indianapolis, six positions), Brown County (in Nashville, six positions), and O'Bannon Woods (in Corydon, six positions). IHC members will clean, restore, and construct 25 cumulative miles of trail in the four parks.
IHC candidates should be at least 17 years of age, U.S. citizens or lawful permanent residents, be able to pass a strict FBI background check, and be able to make a 3 ½ month commitment to the program (Sept. 4-Dec. 14).
IHC, which started Jan. 1, is funded through Indiana's Office of Faith-Based and Community Initiatives.
Interested and qualified candidates should email a résumé and cover letter to [email protected]. More information is at facebook.com/INheritagecorps.
Image courtesy Indiana Department of Natural Resources