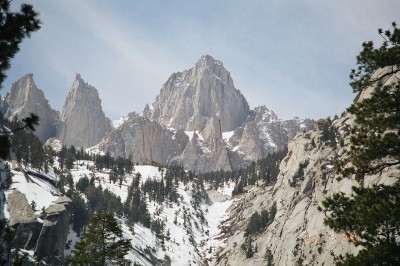 The California 14ers Speed Ascent Record has been described as requiring "the aerobic output of twenty marathons, combined with some free-soloing at 14,000 feet."
Twenty-three year-old Maggie Crawford is trying to break California's Woman's Speed Ascent Record for summiting all of California's "14ers." The 14ers are so named because each of the 15 mountains rises above 14,000 feet in elevation. In order to break the record, she will need to summit all 15 mountains in less than 9.5 days. If she manages to break the record she will be the youngest person to ever hold it.
It seems like this might be a tall order but Crawford seems to have type of outlook necessary to overcome this challenge.
Crawford describes herself this way on her website:
My name is Maggie Crawford.

I like to explore.

And I am motivated by beautiful places.

No day goes by that I don't dream of a place that I've been, or a place that I am going.

I run to experience places.

And I have learned that similar feelings of knowing a place can be achieved through climbing, kayaking, surfing, skiing…

I don't race to see who is fastest, I move to understand the millions of different ways to experience a place, and a time.
Crawford began her attempt on Wednesday, July 25 and has promised to post updates on her attempt to break the record through the following days. Follow her journey through her blog here.
Image courtesy Geographer via Wikimedia Commons