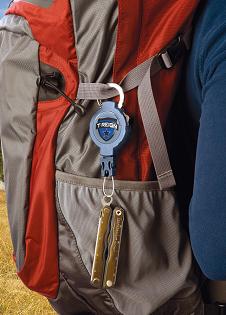 Outdoor enthusiasts all have at least one favorite accessory – from flashlights to compasses and GPS systems – one they need to have always ready and available.
A T-REIGN retractable gear tether is the accessory that keeps these necessities safe, secure and ready for immediate action.
The latest addition to the T-REIGN line is the ProCaseTM, designed to protect the hand-held electronic gear that has become increasingly important to outdoor enthusiasts – but is often dropped or is difficult to access when you need it.
These rugged protective cases come in three sizes to hold range finders, smart phones, digital cameras and GPS systems. All have a 36-inch Kevlar cord and a retraction force of 6 ounces.
With a rigid thermoformed body, ProCase provides a soft yet sturdy cushion so it is impact-resistant. Coated in 600 Denier Nylon, it's weather- and water-resistant. A versatile hook-and-loop back attachment securely fastens to belts or shoulder straps. Available in three colors: black, gray and camo.
Other T-REIGN retractable gear tethers offer a range of sizes and attachment options to meet any requirement, whatever gear your outdoor activity calls for. With a carabiner, they connect easily to a D-ring, a belt loop or a strap. A stainless steel clip makes it slide easily on belts and straps but doesn't slide off, and it has 360º rotation. With a hook-and-loop strap it secures to D-rings, straps and bars.
"With appreciation for the hiker's, camper's and climber's reliance on their essentials, we consider our retractable gear tethers to be the accessory to protect their necessities," said Randy Martin, sales director for the T-REIGN (pronounced "terrain") Outdoor Market. "Our goal for all those who love the great outdoors: never lose your gear again!"
There are T-REIGN models to meet the various sizes and applications of gear. All have a rugged Kevlar cord to assure reliable performance. Depending on the gear, there is a range of retraction forces from 4 ounces to 14 ounces and cord length from 24 inches to 48 inches, so there's one sure to meet every outdoor lover's needs.
For ease of application and reliable performance, all T-REIGN tethers have a quick disconnect gear attachment, as well as stainless steel springs and hardware.
All T-REIGN retractable gear tethers are proudly made in the USA, and are backed by a Lifetime Service Policy.
Images courtesy of Tom Ables