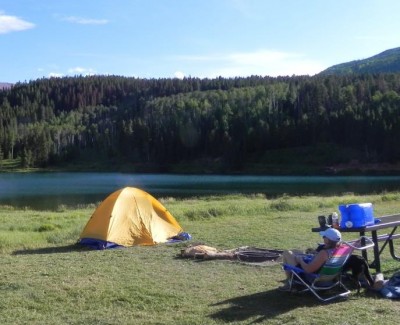 Colorado Parks and Wildlife is pleased to partner with The North Face in expanding the Explore Your Parks program to encourage families to get outdoors and enjoy the nation's treasured and endangered state parks. The North Face, along with the American Hiking Society and Leave No Trace Center for Outdoor Ethics, has teamed up with state parks in 10 regions, including Colorado Parks and Wildlife, across the country in an effort to encourage more people to take advantage of close-to-home recreational opportunities.
Participating The North Face stores in Colorado will be providing activity guides and free park passes to customers, offering free access to Colorado's state parks. The Explore Your Parks activity guides provide helpful tips for five different outdoor activities and suggestions on which state parks are best to enjoy these activities. Additionally, The North Face is supporting first-time camper programs to help introduce new communities to close-to-home opportunities to get outside.
The Let's Camp! program for first-time campers provide overnight experiences for those new to camping or for those who could use a refresher. No prior outdoor knowledge is needed and there's even new loaner equipment for you and your family to use. The Let's Camp! Program started with a donation by The North Face and covers all the fundamentals of camping and cooking outdoors, while showing attendees some of the fun open-air activities that can make your camping trip one you won't forget. To sign up, please visit the parks' website at: http://www.parks.state.co.us/camping/Pages/LetsCamp.aspx
"If you don't have anyone in your life to show you how to pack your bag for a backpacking trip, how to set up a tent or even how much water you need for an overnighter, getting outside for the first time can be daunting," said Ann Krcik director of Outdoor Exploration for The North Face. "Our goal is to help families begin to create an outdoor legacy, a tradition of exploration that can be passed down from generation to generation and the Explore Your Parks camping programs and gear will help do that."
State Park Partners include those in California, Colorado, Georgia, Maryland, Idaho, Massachusetts, Missouri, Ohio, New York and Oregon. Local overnight camping events and first-time camping programs open to all, including military, veterans and their families. Visit www.exploreyourparks.com for complete details.
Image courtesy of Colorado Parks and Wildlife