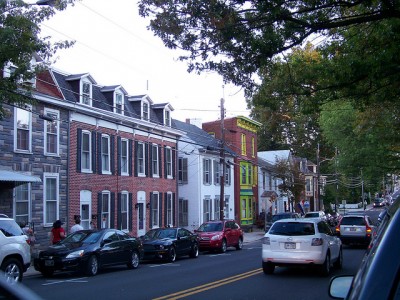 An unnamed 46-year-old Alabama man is recovering from 2nd and 3rd degree burns after a brief scuffle with members of a passing car.
The man was hiking the Appalachian Trail when he passed through Gettysburg, Pennsylvania to pick up supplies. He had stopped at the Grey and Blue Bar off Lincoln Square and at about 1 a.m. on Thursday he was walking when strangers passed by in a small blue car and shouted to him. They taunted him saying he was homeless. The hiker yelled back and the car turned around.
He tried to get away from the oncoming car and turned into an alley, according to police, but the car cut him off. Two of the five people in the car jumped out – one threw a cup of liquid on him, the other lit a match and threw it at the man. He suffered 2nd and 3rd degree burns to the hands, arms, scalp and face. His clothing, backpack and its contents were also damaged.
The incident sparked outrage from the community. Police have received about 25 phone calls from people calling to assist the man. Gettysburg Borough paid for a hotel for the man and community members paid for his flight home to Tuscaloosa, Alabama.
Police are currently investigating the incident. They are looking at security cameras from the nearby area and asking for help from anyone with information. Contact Gettysburg Police at 717.334.1168 or Adams County Control at 717.334.8101.
Below is FOX footage of the incident. See the location where it happened and a word from residents.
Image from Jon Dawson (jmd41280) on the flickr Creative Commons