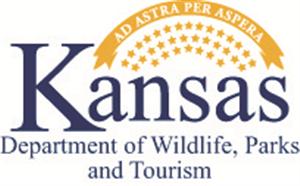 Boating and water sports are great ways to beat the summer heat, and Kansas waters teem with recreational boaters this time of year. Some of the most popular activities involve boating and being pulled by boats — such as skiing, boarding, or tubing — at high speeds. High-speed boating is fun but potentially dangerous without proper precautions, especially when riders fall while being towed.
A downed rider is hard to spot, and accidents can happen when other boaters fail to see them. That's why it is Kansas law to raise red or orange "skier down" flags to caution boat traffic when a rider falls. Flags must be at least 12 inches by 12 inches. On Kansas Department of Wildlife, Parks and Tourism (KDWPT) waters and federal reservoirs, all boaters must obey a no-wake, 5-mile-per-hour speed limit when passing within 200 feet of a swimmer or person who has fallen while being pulled by another boat or is otherwise in the water as indicated by one of these raised flags.
As important as this statute is, misunderstanding of the law is widespread. It's common to see boats towing riders with raised flags, and some boaters have apparently adopted a policy of leaving a flag up during an entire outing, according the KDWPT. This violates the letter and the intent of the law, which states that the flag is to be raised immediately when a rider loses control of a tow rope and falls into the water. The flag is to be lowered once the towing resumes.
Although correct procedure may seem trivial, failure to follow it can lead to a general complacency that raises the risk of accidents.
"KDWPT boating and law enforcement officers emphasize the importance of understanding and obeying safety laws when towing passengers," says Dan Heskett, boating law enforcement coordinator for the agency. "Boaters who run at high speed with a raised flag will be stopped and warned or ticketed. The same goes for failure to raise the flag when stopped."
Remember, the flag should only be raised when a person is down in the water, and the flag must be down when towing begins or is resumed. Following these simple safety regulations will help ensure that summer boating trips remain exciting but safe.
Logo courtesy of the Kansas Department of Wildlife, Parks and Tourism