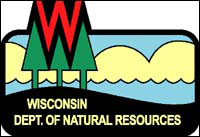 The continued lack of significant rainfall in the southern half of Wisconsin has increased drought conditions and raised the fire danger to extreme, very high or high in 50 southern and central counties.
The lack of rain is lowering water levels on streams and rivers, making navigation more difficult and increasing the number of fish kills. There have been reports of private wells going dry, and some municipalities are placing restrictions on water use. The hot temperatures and low water levels are increasing the risk of blue-green algae outbreaks and concentrating waterfowl in areas that have been known to have outbreaks of botulism.
"The drought is affecting everyone – with farm crops in jeopardy, fire danger, and well impacts, and more," said Department of Natural Resources Secretary Cathy Stepp. "DNR is doing everything it can to share information and expedite approvals for wells and pumping when we can without endangering the long term health of natural resources. Our hearts go out to people struggling with the dry conditions."
The Department of Natural Resources has launched a new Web page intended to help the public find drought-related DNR information and assistance. People can go to dnr.wi.gov and search for the keyword "drought."
Fire conditions
Fire danger levels as of July 17 were at extreme in 25 southern counties and very high or high in another 25 central counties. DNR fire control officials have been responding to 10 to 15 fires a day, and since June 1 there have been more than 275 fires. A 40-acre fire closed a westbound lane of Interstate 90-94 Monday. An Army National Guard helicopter assisted in fire suppressing the fire with water drops.
"With these tinder dry conditions, equipment caused fires have become the number one cause of fires, mostly with hot vehicle exhaust systems or farm equipment," says Trent Marty, DNR fire prevention director.
Emergency burning restrictions remain in place in all or parts of 19 counties. The restrictions prohibit any outdoor burning — outside of fire rings in campgrounds — smoking outdoors or disposal of ash or charcoal. In addition, even campfires within fire rings have been banned at four state park and forest properties including Southern and Lapham Peak units of Kettle Moraine State Forest, Richard Bong State Recreation Area and Big Foot Beach State Park. Park officials caution that without rain soon, the fire prohibitions may be expanded to other properties.
Water concerns
DNR officials are receiving and reviewing applications for emergency permits to pump water for crop irrigation from lakes and rivers. DNR is approving permits for irrigation from lakes and rivers where the withdrawal will not have a negative impact on fisheries or other aquatic life or on other users of the waterway.
The agency has been receiving six to 10 applications a day for new high capacity wells for irrigating crops and is approving the applications where the new wells will not have a negative impact on other private wells. To date there have been numerous reports of private wells going dry, but as of yet no reports of municipal wells going dry.
State dam safety officials are notifying dam operators of their responsibility to maintain a minimal flow of water below dams, as some operators have reportedly begun to hold water back to maintain water levels on lakes, flowages and impoundments.
"Dam operators need to ensure they maintain minimal flow from their dams to ensure fish health and to ensure there is adequate flow for the dilution of wastewater from municipal treatment plants and other industries and operations downstream," said Bill Sturtevant, state dam safety engineer.
Fish kills
State fisheries biologists have entered more than 31 verified fish kills since the beginning of June, with more being investigated.
"The earlier fish kills were primarily due to low water levels resulting in low dissolved oxygen levels," says Paul Cunningham, DNR fisheries habitat coordinator, "but lately we've seen more thermal-related fish kills. The water has just gotten too hot for many of our cold-water species like northern pike."
Fisheries biologists have started to deny some applications for chemical control of aquatic weeds, because of the additional stress the control may have on fish populations.
Beach and swimming concerns
The hot, dry weather is fueling excessive algae growth as the increased water temperature speeds up cell growth and division. Blue-green algae, which are found naturally in Wisconsin lakes and can produce toxins that pose a health threat to people, animal and pets, are becoming a problem in waters with a history of blooms, like Lake Winnebago and Tainter/Menomin lakes, but are in places where blooms are normally not a problem, DNR water leaders report.
DNR staff are fielding more calls on the algae Cladophora from property owners and beachgoers all along the Lake Michigan coast, says Steve Galarneau, who directs the DNR Office of the Great Lakes. The algae, naturally found in Lake Michigan, breaks off from the rocks on the lake bottom and washes ashore, where it smells and looks foul as the algae and aquatic life it carries decompose.
Zebra mussels and quagga mussels proliferating in Lake Michigan are helping create the conditions for more of the algae to grow, along with the warm water temperatures and sunny skies. "Cladophora has been a problem for decades. There are good blocks of time and bad blocks of time during a year, and this is a particularly bad period of time," he says. "We empathize with people concerned about how it looks and smells. We encourage people to avoid swimming through cladophora or coming in contact with the algae that's washed ashore because it may harbor harmful bacteria."
Boating safety
With low water levels on lakes and rivers (USGS Wisconsint streamflow) (exit DNR), boaters need to be especially cautious of navigational hazards that may not have been apparent with higher water levels. Stumps and sand and rock bars may all be closer to the surface, especially on river systems. The Rock and Wisconsin rivers in particular are very low and navigation is difficult in some stretches.
Wildlife health concerns
U.S. Fish and Wildlife Service staff have collected approximately 50 dead birds, primarily mallards, wood ducks and teal as well as pelicans, shore birds, and great blue herons on the northern end of Horicon Marsh. Specimens have been submitted to the National Wildlife Heath Center for confirmation, but officials highly suspect that botulism is the cause. They will be conducting daily monitoring of other state and federal wildlife areas where botulism has caused waterfowl deaths in the past.
Logo courtesy of the Wisconsin Department of Natural Resources