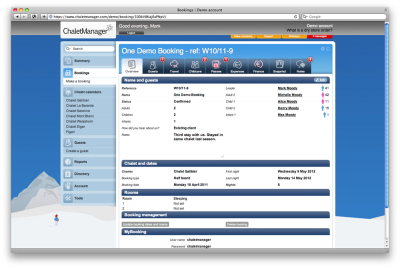 Are you a ski chalet operator looking to maximise your time and streamline your business? Do you find taking bookings time consuming and ultimately tricky to keep on top of? Not only can ChaletManager help you to overcome your challenges, it can help with your entire chalet operation program.
ChaletManager is the complete way to manage your accommodation and chalet operation. Bookings, transfers and invoicing is all taken care of, allowing you more time to focus on whatever else you need to do; looking after your clients, marketing your business or maybe getting out on the slopes yourself.
For any tour operator, the ability to access every client booking in one place is essential. Many small to medium size businesses simply could not implement a system as sophisticated as ChaletManager, but because it has been designed specifically for resort operators, it already provides the perfect fit.
ChaletManager doesn't only work through the winter either, the same functions are available for the whole year and can perform exactly the same tasks during the busy summer months.
ChaletManager is an easy, comprehensive and ready to use solution that can quickly organise all your bookings into one single application. One of the key features allows your guests to access their own booking whenever they like, which means they don't have to contact you to check their holiday details.
You can access ChaletManager easily and view exactly the same data from multiple locations at the same time, for example a café in France and an office in the UK. Purchasing extra equipment is not required, other than having use of any web browser on a PC, laptop or suitable mobile device.
Payment is on a monthly basis and starts from £69.
Core Facts
All your data is only accessible to you and is transmitted over secure SSL.
You don't need any specific training to start using ChaletManager immediately.
ChaletManager is continually improved  & you always have the latest version.
Contacting ChaletManager is easy and full support is available.
Manage your business from anywhere including on mobile devices.
What current customers have said about ChaletManager:
ChaletManager have provided us with a unique, dynamic and dependable product – one that has quickly and painlessly become part of our everyday lives. Their speed and efficiency of response is refreshing and greatly appreciated.  Creative and insightful in tackling all of the ideas we have thrown at them, they have proved invaluable to the development of our company – and all at incredible value for money! ChaletManager have earned themselves our absolute trust and confidence.
Dan Williams | Ski and Summer Morzine
ChaletManager has not only streamlined the way we work but it has allowed us to grow and develop as a company. I now have more time to spend on strategic goals instead of day-to-day operations.
Mark Livesey | Venture Ski Ltd
Image courtesy of Ski Press