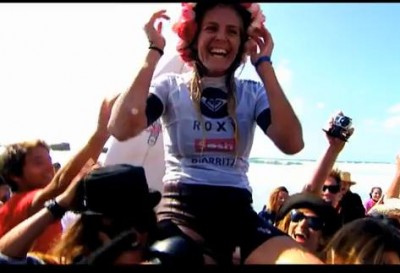 On Saturday, July 14, in Biarritz, France, Stephanie Gilmore, 24, Australia, claimed her fifth world surfing title in six years. If she can maintain this level of performance she easily eclipse Layne Beachley, who won 7 championships and holds the current record for women's championships won. She may even pass 11 time men's champion Kelly Slater for the overall record.
While Gilmore's success in the future is far from guaranteed, her ability to push forward in the face of adversity speaks well for her chances.
Just before the 2011 surfing season Gilmore was attacked outside her home in Australia by Julius Fox— a 27 year old homeless man who had been stalking Gilmore. Fox beat and stabbed Gilmore with an iron bar leaving her with a broken wrist and incapacitated due to a severe head wound.
At the time of the attack Gilmore had won 4 straight women's world surfing titles. Her injuries forced her out of the water and cost her a shot at a fifth consecutive title.
Even though her assailant was arrested, tried, and convicted life was still difficult for Gilmore. "I wasn't at my best," said Gilmore. "I was never able to focus."
Gilmore appears to have regained that focus now.
"It was such a challenge for me to back," said Gilmore after her victory. "This for me was all about improving my consistency and having fun with my surfing. I could just dance my way back to Australia."
You can watch the highlights from the championship below.
httpv://youtu.be/Wtq3AAS50Uc
Image is a screenshot courtesy roxy on youtube.com