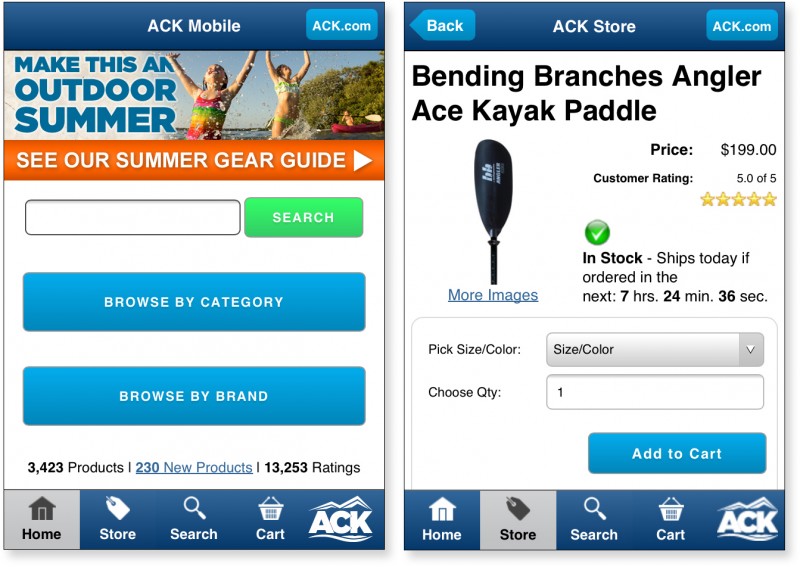 Outdoor retailer, Austin Canoe and Kayak (ACK), a division of MSP Holdings, LLC today announced the latest release of its mobile optimized version of their online store at ACK.com.
The new release of the website, which automatically and seamlessly detects a visitor's device, was developed with a focus on providing customers with a shopping experience consistent with the recently launched iPad® tablet version. Along with full ecommerce capabilities and access to the entire ACK library of products, users now have account management and order tracking functionality.
Upon visiting the site with a mobile device, users are greeted with three easy to navigate options including search, browse by category and browse by brand. The user interface has been updated with a cleaner more inviting design focused on getting customers to the products they are interested in with as few clicks as possible.
"It's just another logical step in keeping up with the ever changing evolution of our customer's expectations when shopping at ACK.com," said Peter Messana, CEO of MSP Holdings, LLC, "we are on a forward thinking mission to provide them the best shopping experience possible no matter the access device."
In addition to ecommerce enhancements, users now have access to a variety of valuable resources including how-tos and videos. And, for customers looking to locate one of ACK's three stores, they now have the ability to utilize their mobile phone's built in GPS to mark their location for getting directions to a store.
To view the mobile optimized version of the website, visit ACK.com with any smartphone device.