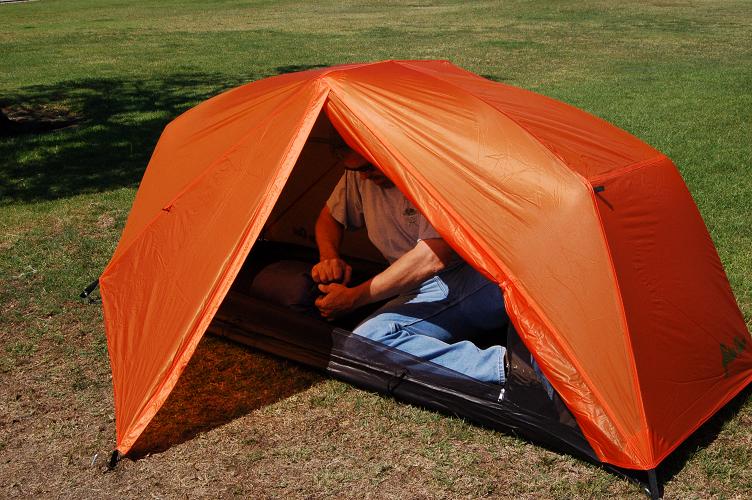 Anyone looking for a wide range of outdoor products in one place can find the ideal solution in Booth #34213 at the OR Summer Market in Salt Lake City, August, 2-5, where PahaQue Wilderness and Green Supply will show an impressive array of outdoor products.
PahaQue, known for their innovative tent designs and high-quality performance, will showcase a combination of backpacking tents and larger family tents. All were created to be quick and easy to set up – each ready to go in less than 5 minutes – and solid enough to withstand weather changes. They also feature a three-inch "bathtub floor" to keep ground water out and campers dry.
Their backpacking tents – the Bear Creek 200 and Bear Creek Solo – feature a full mesh body, designed to provide a wide-open, "sleeping under the stars" feeling.  And if the weather is less than ideal, both tents provide complete protection from the elements, and from bugs, too.
They're light-weight – trail weight for the 200 is 3.1 lbs.; the Solo's trail weight is only 2.1 lbs. Two adults sleep comfortably on the 200's 86"x60" floor; and the Solo, with a 86"x32" floor, will even fit on an oversized cot for off-the-ground sleeping. MSRPs: $299 for the 2-Person, $225 for the Solo.
PahaQue's Green Mountain Tent provides a wide-open, airy feeling in good weather, and a dry and roomy environment in less than ideal conditions. This 3+ season tent comes with its own oversized nylon carrying bag (with an adjustable shoulder strap) for easy storage back home.
A roomy four-person tent, the Green Mountain has a floor size of 96" x 96" and a height of 72" at its peak. Other features include a large rainfly/awning for outside sheltered seating area or extra storm protection, 40" high side windows, and much more. The Green Mountain Tent weights less than 22 lbs. MSRP, $249.
Add to these the wide range of outdoor products available from Green Supply in their joint operation and it opens the door to new retail sales opportunities, especially with the advantages offered by Green Supply: no up-front costs; easy-to-use ordering; drop-ships welcome.
Green Supply calls it their "Dealerease" system. Whether the dealer has a brick-and-mortar store or something less, or is just getting started, Green Supply opens the door not only to PahaQue tents but to more than 18,000 outdoor gear items from more than 100 manufacturers.
For more information on PahaQue tents, go to www.pahaque.com.
Images courtesy of Tom Ables