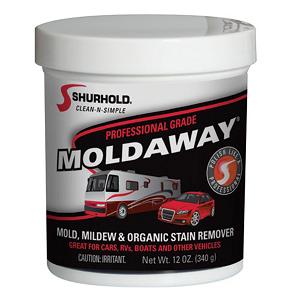 Getting rid of mold is never fun, especially when the process involves bleach. Shurhold's Moldaway is an incredibly effective bleach alternative. Containing no bleach or chlorine products, it's safe on all colors as well as most fabrics.
A scientifically formulated, powdered, oxygenated cleaner, Moldaway can be used on a variety of materials, including vinyl, canvas, plastic, carpeting, interior and exterior cushions, and wood. It easily removes stains associated with mold, mildew, algae, dirt, food and drink.
This versatile product is also great for cleaning drains in sinks and showers before putting an RV in long-term storage. A scoop of Moldaway goes into each drain with a cup of water. After letting it work for a few minutes, owners rinse it out. Designed for RV use, Moldway will deodorize drains without harming the piping. It will also help clean the sump container by oxygenating the sump water, killing mold and mildew spores and other bacteria without bleach.
A 12 oz. jar of Shurhold's Moldaway costs $12.98.
Shurhold is dedicated to educating owners on RV value preservation. Inventor of the One Handle Does It All system, Shurhold manufactures specialty care items and accessories to clean, polish and detail.
Image courtesy of the Martin Flory Group