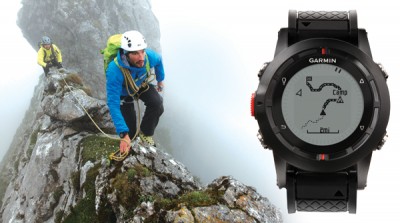 Search and rescue operators for turned-around hikers could be a thing of the past with Garmin's new technology. The Garmin Fenix is a hands-free GPS navigator that plans trips, creates routes, records waypoints and keep a digital bread crumb trail when a hiker or hunter is lost.
The wristwatch has ANT and Bluetooth capabilities which connect it to a variety of external sensors to share data easily. It will display your altitude, temperature, distance covered, pace and cardinal directions on an LCD display with an LED backlight. It can also be paired with Garmin's heart rate monitor or bicycle cadence sensor for additional tracking features.
The product was designed with the outdoorsman and woman in mind. It's meant to keep hikers, mountaineers, mountain bikers, backcountry skiers, hunters and other outdoorsy folks on track.
Gizmag author C.C. Weiss writes that "this is more than just a watch with a GPS chip, Garmin sees the fēnix as a hands-free navigation solution. Unlike its existing GPS sports watches, the Fenix… offers a more robust feature set that will navigate you into and out of the wild."
Fenix lets users download routes from the computer to navigate in the field while an arrow points users in the right direction. A worldwide base map displays nearby cities and a Basecamp desktop application allows for tri planning and sharing. A smartphone application will also be available to share routes and other information with compatible devices.
The Fenix will be available on the market this fall with a $400 price tag, $100 less than its competitor, Suunto's Ambit.
The video below is a quick preview of some of the features of the watch.
httpv://youtu.be/R8OjA6EKIb0
Image copyright Garmin International Inc.