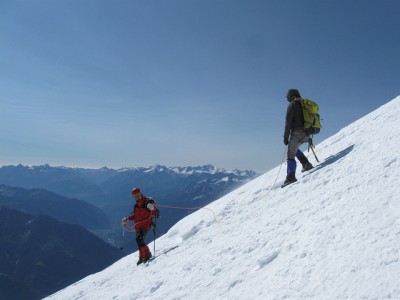 A high altitude avalanche Thursday near the French Alpine ski resort of Chamonix has already killed nine people, injured another nine, while the status of four more is still unknown as rescuers continue their search efforts.
A group of 28 climbers were part of an expedition to the top of Mont Maudit, part of the Mont Blanc range. Mont Maudit is one of the region's most dangerous ascents. They were roped in several groups composed of Swiss, German, Spanish, French, Danish and Serbian nationals, as reported by the local gendarme and Danish Foreign Ministry.
The gendarme received a phone call from one of the injured people in the party at about 5:25 a.m. (0325GMT) Thursday that an avalanche had devastated the expedition. One climber dislodged a block of 15.75-inch (40 cm) ice which broke off and slid down the slope, creating a 6-foot thick and 160-foot mass of snow, according to Colonel Francois Bertrand, of the Haute-Savoie gendarmie.
Details of the deceased's gender, age and identities have not yet been confirmed, although authorities say three Britons were killed, including one or more guides. Two Swiss and two Spaniards were also among the nine confirmed dead.
Nine of the team's injured were evacuated by helicopter to nearby hospitals, while other members of the group were the luckiest and managed to emerge unhurt.
"What happened is absolutely shocking news. For nine people to lose their lives at a small alpine resort will send shock waves through the community," said British mountaineer Kenton Cool to the BBC.
"Unfortunately after the first 15 to 20 min survival rates dramatically drop off, but that's not to say we should give up hope."
View BBC coverage of the tragedy below.
httpv://youtu.be/lqbNrBn3FDw
Image from Franco Pecchio, [email protected] on the flickr Creative Commons