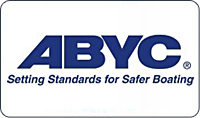 The American Boat and Yacht Council (ABYC) is offering information regarding safety, standards and legislation in response to the recent electric shock drowning incidents.
The ABYC has been aware of and taken steps to mitigate electric shock drowning incidents since 2008. The United States Coast Guard sponsored grants to ensure ABYC's electrical document "E-11 AC & DC Electrical Systems On-Board Boats – 2008″ included an "Equipment Leakage Circuit Interrupter" device. This "interrupter" is similar in function to ground-fault outlets installed in homes. It responds to a potential fault by tripping the main circuit breaker and cutting power to the boat. The device will be mandatory for boats with alternating current systems beginning December 31, 2012.
Electric shock drowning is the result of a typically low level alternating current passing through the body while immersed in fresh water. The force is sufficient enough to cause skeletal muscular paralysis, rendering the victim helpless and drowning. This type of fault can happen in any natural water but becomes fatal in fresh water due to lower water conductivity. Salt water has a higher conductivity.
"An electrical fault looks for a path back to its source and in fresh water, that path can become the human body," said John Adey, ABYC president.
Kevin Ritz, an ABYC certification instructor who lost his 8- year old son Lucas in 1999 to electric shock drowning, serves as an education advocate. Ritz created "Hot Docks, Hot Boats, and Electric Shock Drowning" webinar in 2011. Many companies use Ritz's webinar to educate employees who work in the water.
"Education is the number one defense until we can get ground-fault protection devices in all marinas," said Ritz.
Image courtesy American Boat and Yacht Council