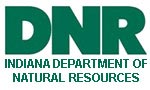 Volunteers are needed to help with Indiana's largest hands-on outdoor recreation event, the Hoosier Outdoor Experience, Sept. 15-16.
Held at Fort Harrison State Park in Indianapolis, this free event of the Indiana DNR features more than 50 hands-on activities, such as fishing, mock archaeological dig, mountain biking and many more activities. Attendees can interact with 120 grassroots partners to learn about how to enjoy the outdoors.
Each day, the event opens to the public at 9 a.m. and runs until 6 p.m. Volunteers and staff are on site at 8 a.m. for setup and an hour after gates close for tear-down.
Sign up to volunteer at http://2012experiencevolunteers.eventbrite.com.
Questions? Contact volunteer coordinator Cheryl Hampton, (317) 233-1002, [email protected] or Leah Kopp, (317) 234-1064, [email protected]. More at www.hoosieroutdoorexperience.IN.gov.
Logo courtesy of the Indiana Department of Natural Resources