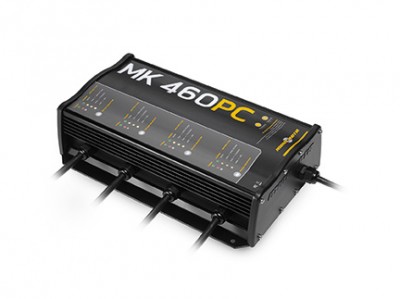 Anglers can get out on the water sooner and stay there longer with Minn Kota's new Precision On-Board Battery Chargers. Offered in one-, two-, three-and four-bank models, with 15 amp True Rated output per bank, the Precision Chargers deliver the fastest charge on the water.
"Simply put, our Precision Chargers provide anglers with exactly what they want the most, the fastest charge time and ultimate battery protection," Minn Kota Marketing Director Joe Brown said. "Precision Charger technology optimizes charging, providing longer run times and extending the life of your batteries."
Minn Kota Precision Chargers provide a fast, full charge even in situations where voltage into the charger has dropped. Low-Line Voltage Compensation adjusts for a drop in voltage output that can occur when an outlet is overloaded or a long extension cord is used.
During each charge, the Battery Equalization feature automatically cleans and conditions the battery to extend run time and battery life. You can also activate a full, thorough equalization to further increase overall battery protection benefits.
Changes in ambient temperatures during charging can damage batteries over time. To protect batteries, Precision Chargers utilize an Automatic Temperature Compensation feature that adjusts for temperature fluctuations and ensures a fast, accurate and safe charge.
Minn Kota's 15-amp Precision Chargers are half the weight of traditional on-board chargers. They also are capable of charging flooded lead acid, gel, AGM (Absorbed Glass Mat) and HP (High Performance) AGM battery types. Minn Kota Precision Chargers also feature the ability to independently select and charge different battery types by bank.
There is also an intuitive LED Display for each bank on the charger that gives an independent readout of connection status, power status, state of charge and selected battery type.
Backed up by a three-year comprehensive warranty, Precision Chargers have a rugged, durable design consumers have come to expect from Minn Kota. With a heavy-duty housing, the chargers are also fully tested to prevent corrosion in either freshwater or saltwater. The chargers are also short circuit, reverse polarity and ignition protected.
Here are the specifications and suggested retail prices of MK PC 15-amp On-Board Battery Chargers:
| | | | |
| --- | --- | --- | --- |
| MK 115PC | MK 230PC | MK 345PC | MK 460PC |
| 1 bank | 2 banks | 3 banks | 4 banks |
| 15 amps/bank | 15 amps/bank | 15 amps/bank | 15 amps/bank |
| 15 amps total output | 30 amps total output | 45 amps total output | 60 amps total output |
| 6-¼" L x 11-⅜" W x 3- ¾" H | 9-½" L x 10″ W x 3-¾" H | 13″ L x 10″ W x 3-¾" H | 16″ L x 10″ W x 3-¾" H |
| Weight: 5.5 pounds | Weight: 8.75 pounds | Weight: 12.5 pounds | Weight: 15.75 pounds |
| Retail Price: $249.99 | Retail Price: $349.99 | Retail Price: $449.99 | Retail Price: $549.99 |
For more information please conntact us at 800-227-6433 or [email protected] .
Image courtesy of Swanson Russell