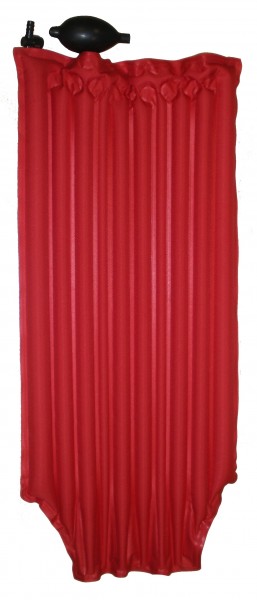 Klymit, a leader in advanced outdoor technology and Granite Gear, a grassroots company leading creative innovation in the outdoor market, have joined forces to create the next advance in backpack frame sheet technology. The two companies are introducing the Klymit Air Beam Vapor Current (V.C.) pack frame, an upgrade to any of the Granite Gear Vapor Current packs including the Crown V.C. 60, set to ship to retailers in the fall.
The Klymit Air Beam is a backpack frame sheet inflated with pressurized air that uses lightweight fabric to create a strong structure. The frame sheet weighs 2.4 ounces without the hand pump, 3.3 ounces with the hand pump. The hand pump can be used to customize the air pressure in the frame sheet.
All the Granite Gear Vapor Current packs come standard with a die-cut HDPE frame that can be removed for trips when loads are below 25 pounds. Now, the pack will be even more versatile with the option of upgrading the frame to the Klymit Air Beam. Switching to the Klymit Air Beam will save 2 ounces over the stock HDPE frame while keeping the load rating at a very comfortable 35 pounds. The Granite Gear Crown V.C. 60 is one of Granite Gear's newest and best-selling packs, weighing in at 1 pound 13 ounces without the stock HDPE framesheet. Combined, the Klymit Air Beam and Granite Gear Crown V.C. 60, weigh 2 pounds and 0.3 ounces making it a leader in the ultra-light pack market.
The Klymit Air Beam offers a variety of advantages over regular frame sheets. It is lighter due to the use of pressurized air, stiffer, more comfortable, allows freedom of movement, increased adjustability and optimal load transfer. At only ¾ of an inch thick, the Klymit Air Beam keeps the load close to the user's back for a direct transfer of weight to the hips.
Gabriel Rhoads and Matt Maxfield, co-developers of the Air Beam concept, say that optimal load transfer is one of the biggest advantages of the Klymit Air Beam.
"Backpack frames are rigid and designed to transfer loads directly to the hips, yet because they are rigid they only transfer directly when the body is in one, or a limited number of positions," says Rhoads. "By using super light fabrics and pressurized air, Klymit has developed a backpack frame sheet that transfers load to the hips in wider variety of positions, even while tying your shoes."
Granite Gear CEO and designer Jeff Knight says working with Klymit is just the partnership he has been looking for.
"Klymit is a small grassroots company like Granite Gear," says Knight. "We're both companies that believe strongly in innovation, not just for the sake of being different, but to offers products that perform better on the trail and offer real advantages to our users."
The Klymit Air Beam will be available in stores this fall for $49.95 MSRP.
Image courtesy of Outside Media