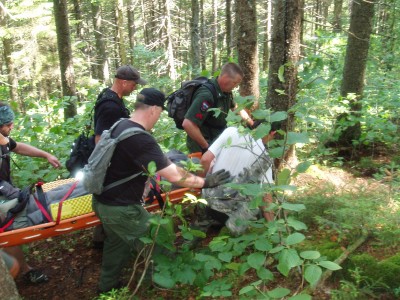 On Friday, July 6 at 7:00 PM, the Maine Warden Service received a report of an injured hiker on the Appalachian Trail between Fourth Mountain and Third Mountain in T7 R9. The 16-year-old hiker from Wisconsin was part of a group of 11 girls that were hiking the 100-Mile-Wilderness from Monson to Mt. Katahdin. 
The group was part of an organization from New Hampshire called the American Youth Foundation. The hiker suffered an injury to her ankle and was no longer able to hike through this very rugged portion of the Appalachian Trail. The group camped on the Appalachian Trail and a rescue group met in the morning hours of July 7, 2012. Over 25 people hiked an access trail to the Appalachian Trail and then south where they met up with the injured hiker. 
The group consisted of five Maine Game Wardens, members of the Maine Forest Service, personnel from the Greenville Fire Department, and members of Appalachian Mountain Club. The injured hiker was carried approximately two miles over very treacherous terrain. The carry out took approximately four hours. She was then transported by C.A. Dean Ambulance to Dean Hospital in Greenville. 
Image courtesy Maine Warden Service