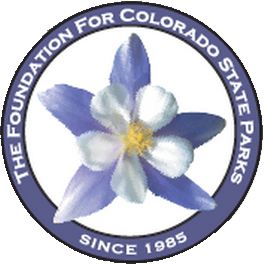 The Foundation for Colorado State Parks (FCSP), in partnership with Colorado Parks and Wildlife (CPW), will hold a series of public meetings this summer to discuss the FCSP's proposed corporate sponsorship program.
"We have been working with the Foundation for several months to shape this new program," said Rick Cables, Director of Colorado Parks and Wildlife. "We applaud their initiative and their desire to reach out to the public for discussion and ideas."
With the goal of increasing the FCSP's ability to support Colorado State Parks, the Foundation is proposing a broad-based effort to create new and ongoing partnerships with private, business and corporate sectors within Colorado.
"Our goal is to boost funding from the FCSP for Colorado State Parks," said Jeff Shoemaker, executive director of the Foundation. "We believe this new outreach to the private sector will significantly strengthen the partnership between the public, private and philanthropic sectors, all of whom share a common love for Colorado's amazing system of state parks."
The public meetings currently scheduled will occur as follows:
July 19: Grand Junction at the Northwest CPW Region Office, 711 Independent Avenue, Grand Junction, Colo. 7 p.m. – 9 p.m.
July 24: Colorado Springs at Cheyenne Mountain State Park, 410 JL Ranch Heights (near South Academy Boulevard and Colorado 115), in the Cheyenne Mountain Room. 7 p.m. – 9 p.m.
July 31: Fort Collins at the Fort Collins Area Chamber of Commerce, 225 South Meldrum. 7 p.m. – 9 p.m.
Aug. 8: Denver at the CPW Office, 6060 Broadway, Denver, 7 p.m. – 9 p.m.
The Foundation for Colorado State Parks was created in 1985 to provide Colorado State Parks with support for various programs and projects that weren't funded through state funds and user fees. In the course of the last 27 years, the FCSP has provided more than $600,000 in support to Colorado State Parks.
Image courtesy Foundation for Colorado State Parks