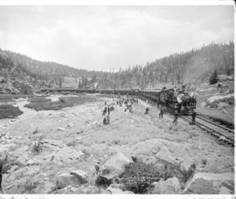 Eleven Mile State Park's programs for adults, families, and youngsters continue through the summer with hikes, nature programs, and other fun activities to connect kids and adults with nature and the outdoors. Please join us for this week's free, fun programs. All children must be accompanied by an adult. All programs are free, but all vehicles entering the park must have a daily pass, $7, or an annual pass, $70. For additional information, please call 719-748-3863.
The amphitheater is sunny, so we suggest that you bring water and a hat to morning and afternoon programs. The program may be cancelled if there is lightning or rain. The July 13 through July 15 programs:
Friday, July 13
Mountain Lions, Bobcats and Lynx – North Shore Amphitheater – 7 p.m.
Discover how these crafty North American wild cats survive in the wilderness, and learn what you can do to recreate safely in big cat country at this program with park naturalist, Beth Dodd.
Saturday, July 14
Edible & Medicinal Plant Walk – Coyote Ridge Trailhead – 10 a.m.
Please join naturalist Beth Dodd for a stroll along the Coyote Ridge Trail to explore the edible and medicinal uses of the plants at Eleven Mile State Park. Sturdy shoes and a water bottle are suggested.
Put Your Best Foot Forward – Junior Ranger Program – North Shore Amphitheater – 2 p.m.
Learn about Colorado wildlife from the bottom up, starting with local animals' unique tracks and feet. We will make plaster casts of animal tracks and paint some to take home.
History of the Midland Railroad – North Shore Amphitheater – 7 p.m.
Join South Park historian Linda Bjorkland for an entertaining ride back in time as she boards the local Colorado Midland Railroad Railway for its weekly wildflower excursion, departing from Colorado Springs and making its way up through Ute Pass, Eleven Mile Canyon, and Spinney. Alllllll Aboarrrd!
Sunday, July 15
Junior Ranger Awards Ceremony – Eleven Mile State Park Amphitheater – 10 a.m.
Hey Kids! Get a Junior Ranger Activity Book from the park naturalist or at the park office. Finish it by Sunday morning and bring it to the Junior Ranger Awards Ceremony to earn fabulous prizes. You'll get a Junior Ranger badge and more. Not quite finished or leaving early? The park naturalist can help.
Colorado Parks and Wildlife was created by the merger of Colorado State Parks and the Colorado Division of Wildlife, two nationally recognized leaders in conservation, outdoor recreation and wildlife management. Colorado Parks and Wildlife manages 42 state parks, all of Colorado's wildlife, more than 300 state wildlife areas and a host of recreational programs. To learn more about Colorado's state parks, please see: http://parks.state.co.us. To learn more about Colorado's wildlife programs, please see: http://wildlife.state.co.us
Image courtesy Colorado Parks and Wildlife