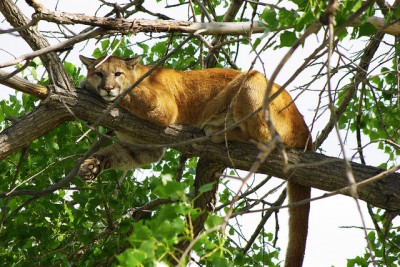 On July 1, early in the morning, a mountain lion attacked a sleeping 63-year-old man who was camping northwest of Nevada City, California. This is California's fifteenth confirmed mountain lion attack since 1890.
The unnamed man was hiking through Nevada County and stopped when he found a place to sleep for the night along a tributary to the Yuba River. He laid down in his sleeping bag. At about 1 a.m., he awoke to a mountain lion biting and clawing him through his sleeping bag.
For about 2 minutes, the lion attacked him. The man also said it bit through the cap he was wearing and his clothing. When it finally ceased its attack, it ran just 15 feet away to turn around and look at the man for 15 to 30 seconds before it was finally gone.
Following the attack, the man drove himself to a hospital in Grass Valley. He was treated for non-life threatening injuries and released, but now wardens are on the prowl for a vicious mountain lion somewhere in Nevada County.
Wardens came to the man at the hospital to verify that he suffered the reported puncture wounds and scratches. His clothing and sleeping bag were analyzed at the California Department of Game and Fish's Wildlife Forensic Laboratory in Sacramento. Wardens also showed up on the scene of the attack where they found lion tracks, but specially trained dogs could not track the lion.
The remains of a domestic cat consistent with mountain lion attacks were also found. The attempt to capture the mountain lion is now underway.
For a summary of previous mountain lion attacks, visit http://www.dfg.ca.gov/news/issues/lion/attacks.html.
Image from Justin Shoemaker, USFWS Mountain Prairie on the flickr Creative Commons