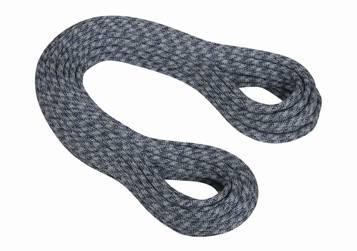 Mammut, the Swiss quality providers of alpine gear and apparel, is putting Wyoming-based Exum Mountain Guides on the sharp end with the brand's new eco-friendly 9.8 Transformer ropes.  The lightweight and SUPERDry coated Transformer will be the standard for all of Exum's guided excursions beginning in Summer 2012.
"We are proud to announce that in 2012 Exum Mountain Guides will begin replacing all of our ropes with the new Mammut Transformer rope," said Exum's Marketing Manager Brenton Reagan. "Exum has exclusively used Mammut ropes for many years, both because of their great durability and excellent handling, but also because Mammut has participated in a carbon-offset program since 2008 to counter the carbon emissions from their entire production."
The Transformer rope was developed as part of Mammut's carbon-offset program aimed at reducing both waste and energy consumption required in the rope-fabricating process. The technology involves utilizing what was once a by-product of manufacturing new ropes.
Mammut Transformer ropes and slings are made of 100% transfer yarns, eliminating the waste material from the dying process by incorporating it into a product that still meets the highest level of textile quality standards.  During the dying process, color changes result in a wasted section of yarn from machine transitions.  This section, known as a "transfer" section, is first-quality yarn that simply has color variations along its length—which can be up to a kilometer long.  While transfer sections can be recycled, the recycling process requires energy and waste of its own.  Mammut is using the transfer sections by incorporating them into Transformer ropes and slings, resulting in a forward leap in eco-friendly rope production.
Both Mammut and Exum see the Transformer ropes as a great way reduce impact on the natural environment that offers so much to climbers.   "Exum Mountain Guides is very happy that Mammut has developed such an environmentally conscious product in the Transformer 9.8 ropes," commented Exum President Nat Patridge. "We retire dozens of ropes each year at Exum and we're excited that Mammut has found a more viable and ecologically conscious option for our stable of ropes."
Patridge added, "Exum Mountain Guides will also continue to lobby for all National Parks Service concessions currently using technical climbing ropes to consider using the Mammut Transformer ropes, or any of the ropes produced in Mammut's carbon-neutral rope production."
Mammut CEO Bill Supple concurs.  "Exum has been a longstanding partner of Mammut, and we value not only their continued use of Mammut ropes but also their shared commitment to using and promoting the most ecologically sensitive products possible," said Supple.  "It shows a real commitment to responsibly stewarding the areas where we all work and play."
Image courtesy of Momentum Media PR