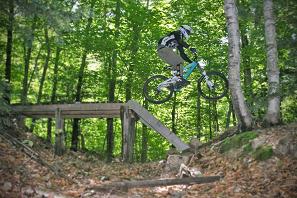 Attitash Mountain Resort will begin its Pin The Trail downhill mountain biking summer weekly race series on Wednesday, July 11. The six week series is comprised of a weekly single run format downhill mountain bike race held every Wednesday at Attitash. "For downhill mountain bikers of all performance levels, the Pin The Trail series can be a great introduction to downhill racing or a consistent opportunity to practice weekly," said Attitash Mountain Bike Coordinator Nate Waterhouse. "For the weekly field of participants, making a timed run weekly helps develop the skills necessary to prepare for and practice competitive racing. We're all having fun, but we're also improving our race craft."
Each week, a number plate draw determines the next week's course and racers will accumulate points and have a chance to win prizes and items provided by series sponsors including Bern Unlimited, Eastern Mountain Sports, Kali, Keen Footwear, Matty B's Mountainside Cafe, Michelin Bicycle Tires, and Smith Optics. The series entry fee is $70 or a daily entry fee of $15. The best overall winner will be announced at the end of the series on Wednesday, August 15.
Attitash has over 20 miles of mountain bike trails including the more difficult and technically challenging downhill trails and 8 cross country trails more suited to all abilities and those just beginning to discover mountain biking as a recreational activity. The Dirt Trax Bike Shop, located on the main floor of the Attitash Base Lodge in the South Wing, stocks a full line of mountain bike clothing and accessories, as well as a fleet of rental bikes and protective gear. For more information on the Pin The Trail race series and mountain biking at Attitash, visit www.attitash.com or call the bike shop at (603) 374-2680.
Image courtesy of Attitash Mountain Resort