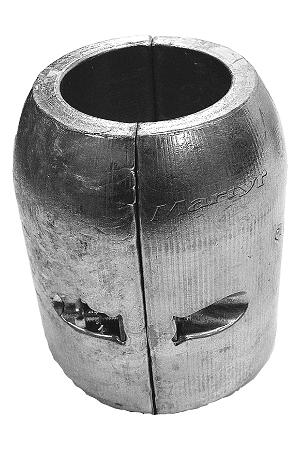 Those wishing to protect the environment can do so while also preventing damaging electrochemical corrosion to propellers and shafts. Dependable Martyr Clamp Shaft Anodes from CMP Global are now available in cadmium-free aluminum and magnesium models.
Aluminum anodes excel at protecting valuable equipment in both saltwater and brackish water. Magnesium is the only anode type that works in freshwater. Martyr Clamp Shaft Anodes are engineered with a steel insert to ensure a tight fit and complete contact for the life of the anode. Stainless steel bolts and retaining washers prevent the anode from falling off as it is depleted. The unique bullet shape combines the benefits of streamlined performance with maximum anode weight and longevity.
Martyr Clamp Shaft Anodes from CMP Global fit most propeller shafts. Inside diameters range from .75″ to 2″, outside diameters from 2.2″ to 3.3″ and lengths from 2.5″ to 4″. All hardware is included for easy installation, even while the boat is in the water.
CMP Global is a world-leading manufacturer and supplier of die cast aluminum, magnesium and zinc anodes. It's the only company with the capability to produce cadmium free anodes that perform in saltwater, brackish water and freshwater.
Image courtesy of Martin Flory Group