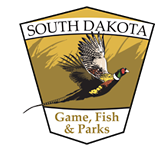 Campsites are still available at many South Dakota state parks for the Fourth of July.
With the Fourth falling on a Wednesday this year, campers are focusing their attention on the weekend before and the weekend after the Fourth of July. This gives more people the opportunity to stay at the parks for the popular camping holiday.
"We have as many as 800 campsites still available for July 3 and 4," said state Parks and Recreation Director Doug Hofer.
"There are only a couple of parks that don't have at least a few sites available during the middle of the week," he said.
Since the holiday is on a Wednesday, a three-night stay is not required for midweek outings.
Camping reservations can be made online at www.campsd.com or by calling 1-800-710-2267.
Logo courtesy of South Dakota Game, Fish and Parks