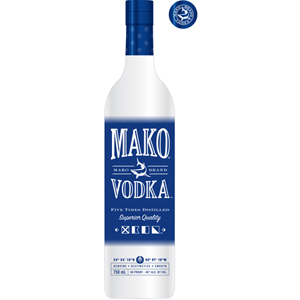 Mako Vodka, the World's Finest Nautical Vodka, has introduced the brand into AR, CA, CT, DC, DE, GA, FL, MD, MA, MI, NY and TN. Nearly all US vodka drinkers participate in nautical activities – from sailing, boating and fishing, to going to the beach – Mako was designed for those who live their lives with a passion and appreciation of the sea.
The package features a distinctive nautical look, including a Mako shark and nautical flags, in a navy blue and white motif. The cocktail recipes have seafaring names, and the tastings are being held around popular seaside, harborside, and lakeside locales across the US.
"We appeal not only to sailing, fishing, and boating enthusiasts, but also to those people who love to relax at the beach and admire the nautical lifestyle. Our consumers, whether they be surfers, kayakers, or beach volleyball players, are passionate about their love of the water and the sea," said Scott Reid, President and COO of Mako Vodka.
The brand which retails at $17.99 for a 750ml, is 80 proof and uses pure natural iron-free limestone spring water, hand-selected distillers grains and a five-times distillation process, lending itself to an ultra-smooth finish. It recently scored a 93 point, Gold Medal, best buy rating from the Beverage Testing Institute.
In addition to tastings, the brand has leveraged social media with a presence on Twitter and a Facebook ad campaign in its key markets targeting consumer profiles which indicate they enjoy nautical activities as well as vodka.
"There's no question the US market already has a lot of vodkas, but the category and consumer base continue to grow. We are differentiating ourselves with our great taste, ultra-distillation process and our nautical focus. To do this, our marketing efforts need to be very targeted to the nautical community, and Facebook has allowed us to target advertising efficiently," Reid said.
Mako Vodka will continue to add additional markets throughout 2012 and 2013.
Mako Vodka