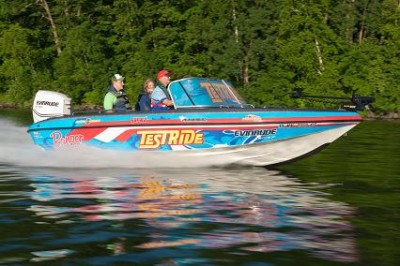 The National TESTRIDE program is coming to the Bismarck-Mandan area of North Dakota on June 30th from 10 a.m. to 3 p.m. The free event is open to the public at Moritz Sport & Marine on the Missouri River in Mandan. A professional angler will take participants out for a ride on the river, giving potential customers a chance to see for themselves all the benefits of an Evinrude-powered Ranger Boat.
A variety of models from the Fisherman series, Angler series, Z-series and Reatas will be available with various outboards from Evinrude. "TESTRIDE gives us a showcase for our multi-species big water boats as well as the bass boats from Ranger," shared George Liddle, Ranger Boats rep and host of TESTRIDE. "Many buyers have compared features and benefits of different models, but we're at the time of year now where we can get on the water for the ultimate test."
"This is a great program with huge incentives tied to it," shared Eric Moritz of Moritz Sport and Marine in Mandan. "There's a package worth $1500 if a TESTRIDE participant purchases a Ranger-Evinrude boat in the near future, so anyone on the fence should come take a ride for that benefit alone. And for those still shopping, there are free t-shirts and Rapala lures for the first 50 riders. Even a chance to win a spot in the All-Star Walleye School in August. It'll be fun for everyone." The North Dakota event is co-sponsored by Moritz Sport and Marine.
Electronics from Humminbird and Minn Kota trolling motors as well as Talon shallow-anchoring systems, Dobyns rods and Rapala lures round out the product demonstrations. Attendees will receive special discounts from TESTRIDE's online partner for guide-recommended outdoor gear—KrugerFarms.com.
"TESTRIDE events provide Evinrude the opportunity to expose our engines to boating and fishing consumers," shared Krista Heidgerken of Evinrude Outboards. "Customers can experience the power of an E-TEC and learn about reliability and superior design from the pro anglers that depend on them. In many cases that wins them over."
"TESTRIDES are a great opportunity for us to get to know even more anglers interested in our products and welcome them to the Ranger family," added Bart Schad, Ranger Vice President of Marketing.  "We're committed to consistently delivering the ultimate ownership experience and these events help us show the real differences that make up so much of our legendary ride, handling and fishability features."
See www.liddlemarketingcompany.com for a complete details. LMC is proud of the TESTRIDE partner relationship with the following organizations: Evinrude E-TEC Motors, Ranger Boats, Dobyns Rods, Rapala, Humminbird Electronics, Minn Kota, Talon and KrugerFarms.com.
Image courtesy of Liddle Marketing Company