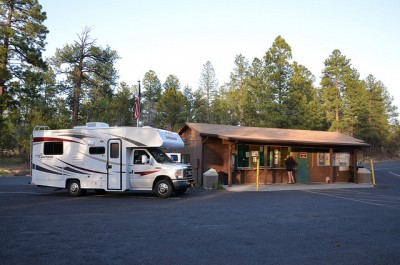 The Campgrounds and RV Parks industry began its recovery in 2010, after a disappointing 2009 when industry revenue declined 4.8% due to cutbacks in travel and declining recreational vehicle (RV) sales. Over the five years to 2012, IBISWorld estimates that revenue will remain flat, growing at a 0.0% annualized rate to $4.8 billion. From 2010 to 2011, revenue grew 2.4% and is estimated to grow an additional 3.1% in 2012. "This growth is expected to completely offset the declines experienced between 2007 and 2009," says IBISWorld industry analyst Radia Amari.
The Campgrounds and RV Parks industry is driven by a number of factors, including the state of the economy and other travel-related trends. As people cut down on spending across the board in response to the recession, they were less likely to spend money on non-essential travel. "As the recession deepened and unemployment rose," says Amari, "falling domestic travel and the shrinking number of international arrivals into the United States adversely affected the industry." In 2009, domestic travel fell 5.1% and international arrivals declined 5.2%. With fewer people taking trips, revenue dropped, and the number of industry firms fell in turn. Over the past five years, the number of firms is expected to decline at an annualized rate of 0.2% to 12,971. However, in 2011, domestic travel grew 2.4%, while inbound travel rose 5.7%. In 2012, these rates are expected to grow an additional 3.3% and 5.4%, respectively. Furthermore, with the economy continuing to improve in 2012, more consumers are expected to take trips. In 2011, consumer spending grew 2.2% and is expected to grow an additional 2.0% in 2012. The industry is highly fragmented, and most industry firms are owner operators with a single location.
RV dealers endured an extraordinarily difficult year in 2009, when revenue tumbled 25.1%. RV dealers' primary customers are retirees and adults near retirement – consumers whose savings were decimated by the collapse in asset prices. However, industry revenue grew 16.6% in 2010, driven by improved credit conditions and pent-up demand. Revenue for RV dealers is expected to grow an additional 5.1% in 2012. Over the next five years, the progressive aging of the population, particularly of people aged 55 to 75, will continue to positively influence demand and revenue as the economy improves. Industry growth will also be supported by increases in RV shipments and the depreciation of the US dollar, which will encourage more Americans to travel domestically. Over the five years to 2017, industry revenue is forecast to increase. For more information, visit IBISWorld's Campgrounds and RV Parks in the US industry report page.
Image courtesy Grand Canyon National Park (Grand Canyon NPS on Flicker)