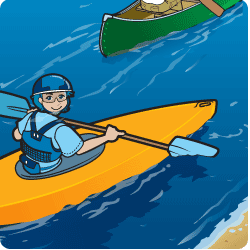 Today, BOATERexam.com is pleased to announce the launch of its free online paddlesports safety course, its first NASBLA-approved course covering the basics of paddlesport safety and navigation.
According to the U.S. Coast Guard, paddlesports, which include canoeing, kayaking, rafting, and stand up paddling (SUP), is the fastest growing area within recreational boating. With that popularity has come a growing number of accidents. In its most recent statistics covering recreational boating, the U.S. Coast Guard reported over 134 fatalities relating to paddling accidents in 2011.
"As one of the leading online boating safety educators, we are in a great position to make a difference," says Kerry Moher, Vice President of BOATERexam.com and member of the National Boating Education Standards Panel. "Many of us are also avid paddlers. So we put two and two together and decided to create a free course that would help new enthusiasts enjoy the sport safely."
For over eight years, BOATERexam.com has worked with the National Association of State Boating Law Administrators (NASBLA) to deliver online safe boating courses that lead to safety certifications in over 40 states. While most states do not require a safety certification for paddlesports, BOATERexam.com believes that its state partners will be eager to distribute and publicize the free course.
"There are many safety risks unique to paddling," says Pamela Dillon, NASBLA Education Director and former head of the American Canoe Association. "For example, capsizing is far more frequent. Early in the season, the combination of cold water and an unexpected capsizing can be deadly. So we are excited to have an online course that can help us get that kind of message out."
"By making the course free of charge, we hope that many new paddlers will spend a few minutes to learn some basics before heading out on the water. With summer finally here, now is the perfect time to take the course," concludes Moher.
For more information the new paddling course, visit www.boaterexam.com/paddling.
Image copyright BOATERexam