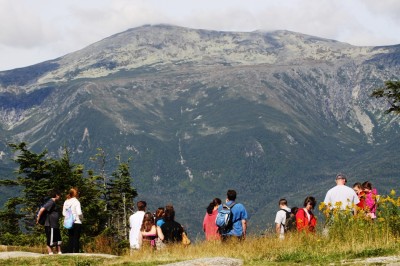 Every week in July and August, "Tin Mountain Tuesdays" and "Wednesdays at Wildcat" provides opportunities to explore Wildcat Mountain with a Tin Mountain Conservation Center naturalist learning about the diverse ecology of Pinkham Notch in the White Mountain National Forest. Program topics change weekly and include learning about the flora and fauna of the forest; discovering what lives within and contributes to the health of a fresh-water pond ecosystem; the high-alpine, summit environment; and the geology of the surrounding mountains and Presidential Range. Tin Mountain Conservation Center programs at Wildcat Mountain are scheduled every Tuesday & Wednesday beginning July 3 through August 29 and rotate weekly.
Also once a month at Wildcat this summer & fall, an Appalachian Mountain Club naturalist will lead an interactive and educational summit tour followed by a guided hike down. Scheduled dates for the "AMC Guided Summit Tour & Hike" are Saturdays July 14, August 11, September 22, & October 13.
Reservations are not required and programs are geared for all ages. For all programs, meet at Guest Services in the Wildcat Mountain base lodge shortly before 10am. Admission is free, except for Tin Mountain Conservation Center and Appalachian Mountain Club (AMC) summit tour dates that require a trip on the Wildcat Express scenic gondola. Round-trip scenic gondola tickets are $15 for adults, $10 for children ages 6-12, $13 for seniors ages 65+, and ages 5 and under ride for free (For AMC dates, those that wish to partake in the optional guided hike down can pay a reduced rate for the one-way ride to the summit). Children must be accompanied by a parent or guardian and all persons should bring proper footwear and clothing as well as pre-applied personal sun protection and bug repellent if desired. In case of inclement weather, the program may be held indoors using slide shows and interactive displays.
Image courtesy of Wildcat Mountain