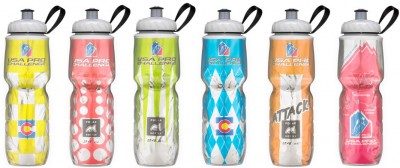 Polar Bottle and USA Pro Cycling Challenge have signed an agreement to make Polar Bottle, which is manufactured in Colorado, the official water bottle of the race through 2013.  "We are thrilled to be on board with the USA Pro Cycling Challenge for the next two years," said Judy Amabile, Polar Bottle's President.  "It's great to have world-class stage racing back in Colorado and last year's race proved that our state is the perfect venue.  We're extremely excited to help the event continue to grow."
In its inaugural season, the USA Pro Cycling Challenge drew over 1 million spectators from around the world to the state of Colorado and contributed $83.5 million to the local economy.  More than 22% of spectators came from out of state and about 71% of those visitors came specifically for the race.  The race also received 25 hours of national television coverage and was televised in 161 countries and territories worldwide.  The Pro Challenge expects similar numbers at a minimum for this year's race (94% of polled attendees planned to return in 2012), which takes place August 20-26.
Polar Bottle has created a variety of custom bottles designed specifically for this year's race.  The designs are inspired by each of the five Leader's Jerseys – General Classification (overall leader), Best Young Rider, Best Sprinter, King of the Mountains, and Most Aggressive Rider – and a commemorative 2012 Stage Route bottle has also been created.  Polar Bottle will supplement its sponsorship with a presence at each stage of the race, including the penultimate Stage 6, which ends with an iconic climb up Flagstaff Mountain in the company's home town of Boulder.
Image courtesy of Polar Bottle