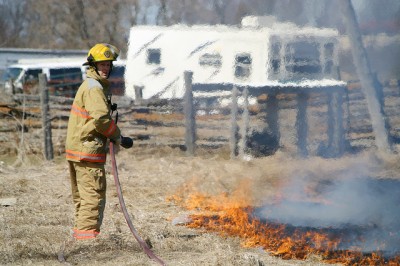 At this time of year, many Hoosiers usually find themselves around a fire pit on the weekends. However, due to a nasty drought throughout the state, a campfire ban is in effect, scrubbing many outdoorsmen and womens' recreational plans.
Open burn bans were issued on Tuesday, June 19 in more than 30 of Indiana's 92 counties. Much of the state is listed as being in a moderate drought, according to the Associated Press.
Alan Erwin, who runs a supply shop in northeastern Indiana, has noticed that business has slowed down by about one-third. Erwin usually sells firewood and other supplies to campers who visit the nearby Chain O' Lakes State Park. Currently, there is a fire ban at the park.
"A lot of what we sell revolves around campfires," Erwin told The News Sun of Kendallville. "We sell lots of wood over the weekends. That makes up probably 15% to 20% of our sales."
Erwin believes his drop in sales has come from the park's campgrounds being only about half full.
Officials across the state worry that fire can spread quickly from tinder and dry grass. Some wonder whether to call off Fourth of July fireworks celebrations if an adequate amount of rain doesn't dampen the ground by the time the holiday comes around.
"There's been brush fires, wood fires and just plain stupidity fires, and it's taxing our resources," City of Peru Fire Chief Chris Betzner told the Kokomo Tribune. "Until we get some moisture, it's bad out there."
The National Weather Service recorded only 0.05 of an inch of rain in Indianapolis for June. If Indianapolis doesn't get more rain by the end of the month, it will have been the driest month for the city since 1988, when total rainfall for June was 0.36 of an inch. Fort Wayne has seen only 0.06 of an inch of rain so far this month, and Evansville has seen 0.15 of an inch.
This is the second year in a row that Indiana has put burn bans in effect. Judith Writsel runs the Lynnville Park Campground about 20 miles north of Evansville. She's praying for rain to avoid the second-year ban. Her 75-site campground might lose some business because visitors can't have campfires.
But if the fire ban doesn't keep campers away, the 90-degree temperatures might.
"It's so hot for people to even camp," said Patsy Marshall, who along with her husband has owned and operated Yellow Banks Recreation Center in Dale, Ind., for 45 years. "If they're going to have to sit in their campers, running the air conditioning, they might as well stay home."
Image from Jason Bain, Jason Edward Scott Bain on flickr