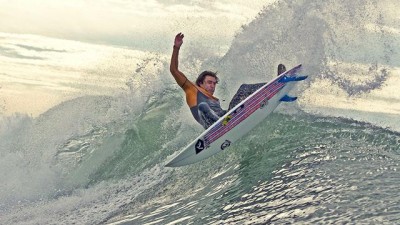 Nate Yeomans is the latest athlete to extend his sponsorship deal with Body Glove International.  Yeomans has signed a 3-year extension for wetsuits and wetsuit accessories.
"Nate is one of our best athletes; he brings humor, style and a kick ass mustache to the table. Plus, his surfing is unreal. Body Glove International and myself are honored to keep Nate as a part of our team and family", says Matt "Chewy" Chernega, Body Glove's Surf Team Manager.
"I love being involved with Body Glove because they have such a rich history in the water. It's awesome to be a part of the family, not to mention they make the best wetsuits in the world. Their PR1ME suit is next level," states Nate
Through his recent activity on the WQS Prime Series, he has gone from 50th to 32nd in the World Tour ranking. His recent activity includes his 5th place in Brazil, 4th at the Pipeline Volcom Pro and 2nd in the Huntington Vans Pier Classic. Nate is currently working towards re-qualifying for the ASP Championship Tour.
For more information on Nate Yeomans visit his team page http://www.bodyglove.com/team/nate-yeomans/
For more information on Body Glove athletes and products go to www.bodyglove.com and for daily updates visit www.facebook.com/bodyglove
Image courtesy of Body Glove