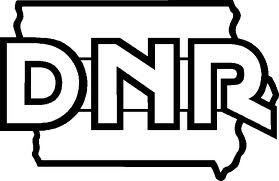 Boat owners renewing their registrations will find a new system that will deliver their registration, decal and other paperwork on one printout.
The system was developed by the same company that manages hunting and fishing license sales and campsite registration, and has been in the works since 2009. Registration will still be handled at the county recorder's office. It is being phased in starting June 8, and will be done by middle August.
"Customers will not likely notice much of a difference, but it will put the county recorders in a good position to have each customers' information in one file and once all that information is updated, we can move to a web application and eventually to having boat registration renewals handled online," said Susan Stocker, boating law administrator and education coordinator for the Iowa Department of Natural Resources.
The new system comes with a small fee increase to pay for and maintain the new software.
Logo courtesy of the Iowa Department of Natural Resources