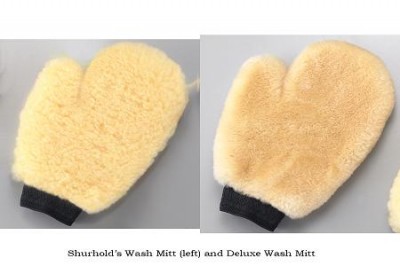 Sometimes the best tools to clean an RV's exterior are an owner's hands. With Shurhold Industries' Wash Mitt and Deluxe Wash Mitt, outdoor enthusiasts can help brush away dirt on the surface or give a good washing without dragging out a bunch of supplies.
The Wash Mitt is made from soft, synthetic, absorbent fibers, while the Deluxe Mitt is made from genuine lamb's wool. Both feature a shaped thumb and elastic band base, for a comfortable, easy and snug fit. Great for washing and polishing, both versions can be used wet or dry.
Wash Mitt is $5.98 and Deluxe Wash Mitt is $11.98.
Shurhold is dedicated to educating owners on RV value preservation. Inventor of the One Handle Does It All system, Shurhold manufactures specialty care items and accessories to clean, polish and detail.
Contact Shurhold, 3119 SW 42nd Ave., Palm City, FL 34990.
800-962-6241; Fax: 772-286-9620. www.shurhold.com/rv.
Image courtesy of Martin Flory Group