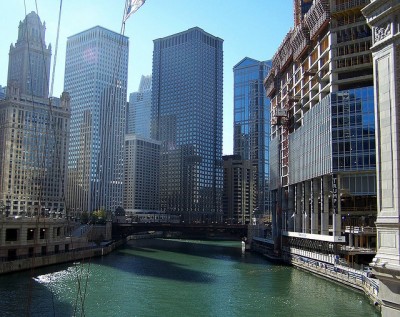 Emmanuel Gonzalez was out on a kayak for the first time in his life on the Chicago River in the downtown loop area when a man plunged into the water not far from his kayak.
Gonzalez, 17 , and his girlfriend heard people shouting on the bank that a man had fallen over the barrier. Gonzalez paddled over to the man and pulled him out by the scruff of the neck.
"My first instinct was to get his face out of the water," Gonzalez said to press. By the time he got to the man, who was dressed in a business suit and was wearing a wedding ring, Gonzalez said the man had turned purple.
Gonzalez kept the man's head above water for several minutes until police divers and police on a boat arrived to handle the situation.
Witnesses say the man had been sitting on the edge of the railing above the river, reading, when he "rolled" into the water. Medical authorities said he appears to have had a medical emergency. The man was taken to Northwestern Memorial Hospital where he remained in serious condition. The unidentified businessman appeared to be in his 30s.
Gonzalez was dubbed a hero that day by police and by his girlfriend. Gonzalez also said his mom was proud of him. He's a recent graduate of Kennedy High School.
The video below is captured by witnesses on the scene. It shows the kayaker in action as medical personnel arrives by boat.
httpv://youtu.be/ghLaPDTE3t4
From the same cameraman, Marty Woulfe on youtube, this video shows the resuscitation effort of medical authorities just before the man is carried out by stretcher. For just a few brief seconds, the man's blue/purple complexion is visible.
httpv://youtu.be/WKqIpuy6pdk
Image from Dmitry, ser.ddima on flickr