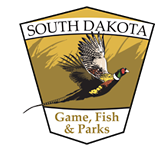 Water temperatures are warming in South Dakota, and boaters typically begin to take to the water in greater numbers as the July Fourth holiday approaches.
In an effort to help keep those boaters safe on South Dakota's public waters, the Department of Game, Fish and Parks (GFP) will step up its efforts over the next few weekends to conduct boating safety checks across the state.
"While GFP conservation officers routinely conduct boating safety checks during much of the year, these stepped up efforts are being made as part of a nationwide boating safety campaign in conjunction with the National Association of Boating Law Adminstrators (NASBLA)," said Brandon Gust, GFP boating safety coordinator.
Before heading onto the water this summer, Gust encourages boaters to take a close look at their fire extinguishers, life jackets, throwable seat cushions and other equipment to be sure they're in good working condition. "The best way to prevent an unwanted tragedy on the water is to be prepared."
If boaters are uncertain what safety equipment they are required to have onboard, Gust suggests that they pick up a copy of the South Dakota Boating Handbook at the nearest GFP Office, state park, GFP-license outlet or by going online at http://gfp.sd.gov/fishing-boating/boating/
The following list of required safety equipment serves as a quick reference, but Gust suggests that boaters take a few minutes to review other safety regulations in the South Dakota Boating Handbook. The majority of boats in South Dakota are required to carry:
One U.S. Coast Guard-approved wearable, properly sized personable flotation device for each person aboard
One U.S. Coast Guard-approved throwable type flotation device (seat cushion or ring buoy) for vessels 16 feet or longer
One U.S. Coast Guard-approved fire extinguisher of B-1 type or larger for vessels with enclosed gas compartments
While state regulations require that children under the age of seven must wear their life jackets anytime a boat is moving on the water at 'greater than no-wake speed,' Gust encourages parents to have all children wear life jackets. Gust also emphasizes that parents should check to be sure each child has a properly sized lifejacket to ensure it doesn't come off when they jump into the water.
"Of course, it goes without saying that life jackets will not keep anyone afloat, young or old, if they're not wearing them," said Gust.
Boating accidents present a special safety concern, and Gust asks that boaters be especially mindful when other boats are present.
"Many times we see boat accidents that involve inexperienced operators, but careless or reckless operators present a problem for everyone," he said.
Finally, Gust asks that boat operators do their part to make for a safe outing and limit alcohol consumption.
"The safety of everyone aboard a boat depends on having a sober and competent boat operator," he said. "While open containers of alcohol are allowed in boats, we want to ensure that each boat has a designated sober operator at all times."
Logo courtesy of South Dakota Game, Fish and Parks