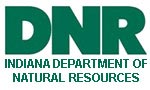 Teams will compete in a variety of shoreline and shallow-water challenges during the fun and friendly Beach Olympics, June 30, at Lake Monroe's Paynetown State Recreation Area.
The event starts at 7 p.m. and is free.
Competition is limited to 12 teams of four people each. Teams must have at least one person who is 18 years old or older. The other team members must be at least 8 years old.
To even the playing field and encourage family teams, bonus points will be awarded for each team member younger than 15 or older than 60.
Registration opens June 16 and lasts to 6 p.m. the day of the event. To register, call the Paynetown activity center at (812) 837-9546, or email [email protected].
A gate fee of $5 per in-state vehicle or $7 per out-of-state vehicle applies.
Paynetown SRA is at 4850 South State Road 446, Bloomington, 47401.
Logo courtesy of the Indiana Department of Natural Resources