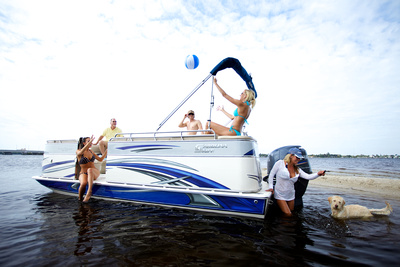 Thanks to Carolina Skiff, boat owners no longer have to choose between the fun and performance of a v-hull boat and the family-friendly roominess of a pontoon boat. The Waycross, Georgia boat builder has announced the official release of its revolutionary new Fun Chaser line of high-performance fiberglass deck boats.
"When people first see the Fun Chaser line, they assume they're pontoon boats," said Joe Kirkland, President and CEO of Carolina Skiff. "But these luxurious and roomy pontoon-like decks are actually built on a high-performance mono v-hull. Their ingenious design will enable families to enjoy all the space and luxury of a traditional pontoon boat while still having the power needed to pull skiers and tubers with ease. It's really the best of both worlds."
After treating the industry to a soft introduction of these innovative hybrids at last year's Miami International Boat Show, Carolina Skiff now has the fully developed Fun Chaser line in production, at dealers and ready to go.
"It's really a unique crossover niche in the recreation and family boating marketplace," Kirkland continued. "No other manufacturer is offering boats with this creative combination of space, performance and, especially, value. We believe there's nothing on the water that compares with them."
Kirkland also noted that, because of the Fun Chaser's fiberglass construction and stainless steel railings, gates, and fixtures, boat owners will be free to take their Fun Chasers into both fresh- and saltwater.
"We think their saltwater readiness is something boat owners will really respond to," Kirkland said. "It's going to be a game changer."
Carolina Skiff's Fun Chaser deck boats are currently available in 19- and 22-foot lengths, in both Cruiser and Fish Series. Further line expansions are planned in the near future.
Image courtesy of Carolina Skiff